6 Ladakh Monasteries for Meditation and Spiritual Experience
Ladakh is a sanctuary for the spiritual exploration and here you can find the 3M's impeccably interconnected to one another. Moreover, These M's are Mountains, Meditation and Monasteries.
Leh Ladakh is no less than heaven and it's much acclaimed for the unconventional brown mountains which can give answers to your seeking soul. Apart from this, there is another place to look out for meditation i.e, Monasteries which is a must visit for everyone. However, these beauties are manmade but you will surely come out of these places with inner peace and a different perspective for life.
Firstly, Monastery or Gompa whatever you call it's a place where young boys aged between 5-15 taught and follow a very disciplined life by various meditative teachings. Secondly, According to the monastic method, they supposed to stay away from their family and lead an ascetic life.
The below referenced are few of the famous monasteries in Ladakh region which you must not forget to include in your itinerary whenever you are planning to visit the place.

1) Alchi:
Alchi monastery or gompa is the monastic complex of temples located in the Alchi village of Leh district. This is known to be the oldest and most famous one which monitored by Likir Monastery. In Alchi village, you can find some unique monuments and varied size prayer wheels. I found a classroom under the tree which looked very like my creative ability of gurukul found in Hindu sacred texts. For instance, Numerous religious communities  are build in Kashmiri styles, for example, the principle temple which is 3 put away named gTsug-slack khang, assembly hall/corridor or Dukhang and third temple named Manjushri. Interestingly, There was a tree outside the classroom with no leaves and it gave an astounding harvest time season see. One must not miss the ancient paintings, books, and sculptures here which depict the history of Kashmir and Himachal Pradesh.
Major Lookouts: Sum-tsek- three-story temple, four armed huge Bodhisattva statue, white Avalokiteshvara statue, the idol of Maitreya Buddha, and Jampe Lhakhang Temple.
How to go there: From Leh, you need to drive towards the Indus River via Leh – Srinagar road for around 70-75 km.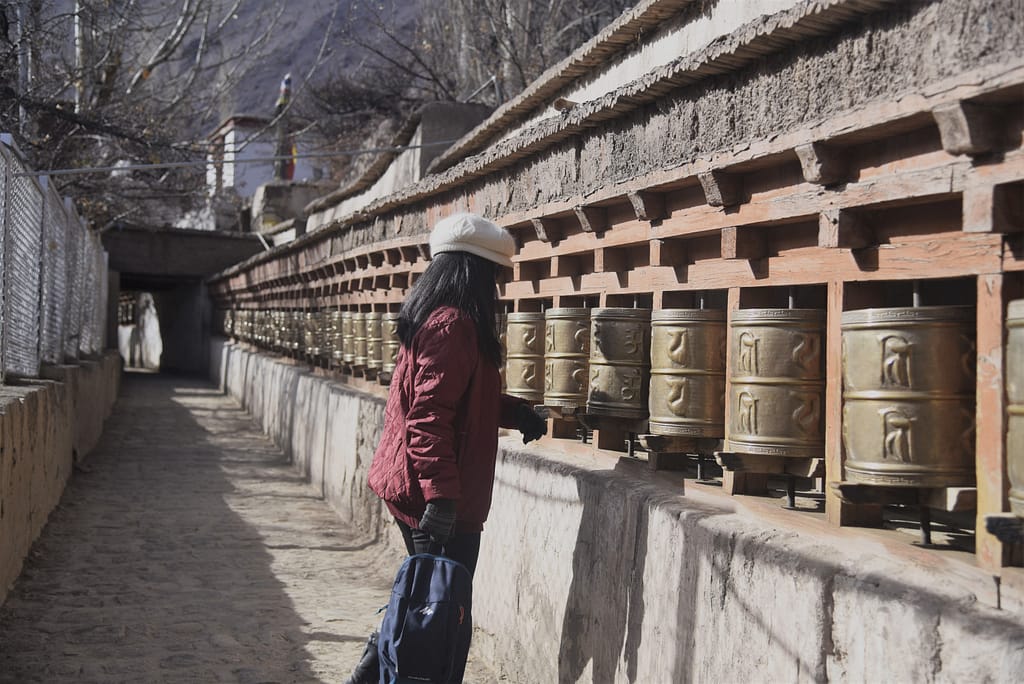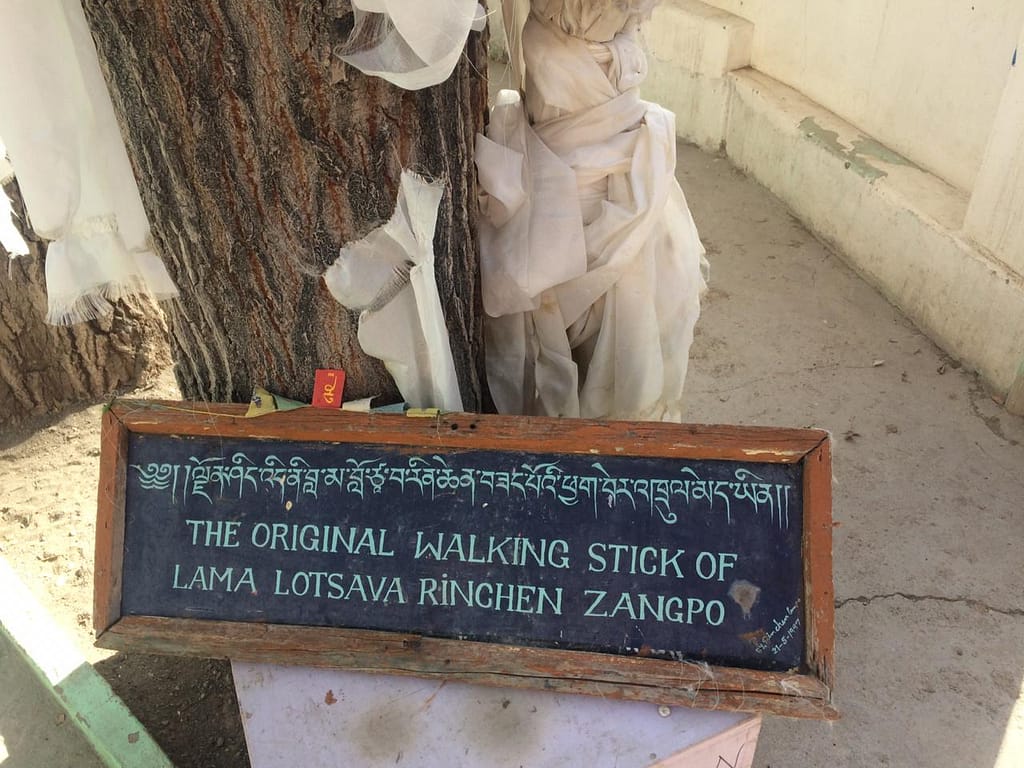 2) Stok:
Stok Gompa is a Buddhist monastery located in a place called Stok, Leh district, Ladakh, India. The Stok is just 15 Km away from Leh and it is one of the chapels of Spituk monastery, one of the monasteries in Ladakh. This originated by Lama guru Lhawang Lotus in the 14th century and is home to hundreds of monks. The major attraction of this place is Buddha statue which is about 71 ft high and a library which comprises of 108 volumes of Kangyur. Just around 2 km from the monastery you can locate Stok Palace which was build in 1820. The Gautama here looks completely engrossed in his meditation sitting at an ideal spot in the core of the mountains.
Key attractions: A museum/library inside the palace with unique items, like seals, ammunition, Buddhist art, paintings, and ancient coins.
The most effective method to go there: Take a taxi or auto or some other type of transportation from Leh.
Recommendations: When you reach the Buddha statue point, make sure you are adequately dressed else the chilly winds will hamper your majestic view moment.
3) Hemis:
It was build in the empire of King Singge Namgyal and is one of those greatest monasteries in Ladakh. Hemis festival is organized every year during the month of June-July to worship Lord Padmasambhava by this monastery. The festival celebration incorporates dancing and various cultural activities. This is currently managed by The Gyalwang Drukpa, Drukpa is another sect of Buddhists simply like Lama. This is also the most affluent monasteries in Leh and Tibet region. It is believed when invaders were conquering and looting India in the past, due to its difficult route no one could reach there and all the antiquated coins and fortunes stayed safe inside the spot.

Key attractions: There is a eye-catching Buddha copper statue and amazing paintings, different Stupas, historical articles, Coins, historical artifacts and great Thangkas which depicts a various side of culture of
Buddhism.
How to go there: Hemis is almost 40Km away from Leh city. Take cab or auto from Leh which will take around 2 hours to reach here.

4) Thiksey:
This is a standout amongst the most delightful Monastery at 11,800 ft height where you can discover stairs to discipline and dedicated life of monks. I have had invested the maximum time here contrasted with some other monastery. The view from the monastery is quintessential and here you can find the majestic views of the mountains right after climbing the stairs. Gelugpa sect is looking after this monastery. It consists of a 12-story building gathering and home to almost 500 monks. You can stay here too if you want to spend some more time and get a dip onto spiritual vibes.

Key attractions: 49 ft statue of Maitreya Buddha, Dukhang Karmo – a long assembly hall
How to arrive: Thiksey is 19 km away from Leh and you can reach by private cab. There are state buses also available for transportation.
5) Shey Monastery:
Shey palace and Shey Gompa  located in Shey which is 15 km away from south of Leh. Interestingly, This place has been capital to Ladakh in the past before Leh. This ancient palace and gompa were build in 1655 by the king of Ladakh Lhachen Palgyigon and it was considered to be the summer haven for the royals of Ladakh. Lastly, This extends up to 3 floors.
Key attractions: Old architecture, Rancho school nearby where 3 Idiots was shot, Indus river flowing nearby, 7.5m tall statue made up of brass plated with gold and precious gems.
How to get to the place: Shey is 15 km away from Leh and you can reach by private cab.

6) Likir Monastery:
Firstly, Established by Lama guru Duwang Chosje in the 14th century is considered to be one of the early creation by Tibetan monks. Unique prayer wheels, artistic staircases, and tranquil ambiance are its key points. Also, There is a museum here like all the other monasteries where you can find artifacts and other authentic and historic interests.

Key attractions: Likir's festival Dosmoche and vows of Pratimoksha disciplines
How to make it to the place: Almost 53 km away from Leh can be reached by taxi or cab easily from Leh city. Lastly, Many buses are also available to reach here however, they are available on the particular timeslot.