Earlier this month on 2nd Oct 2020, Prime minister Modi has inaugurated the much anticipated Atal Tunnel in Himachal Pradesh under the Rohtang pass. Luckily I was in Manali at that time and I visited the Tunnel just a day after the inauguration.
The Tunnel is 9.02 Km long and is claimed to be the Worlds longest highest tunnel 10000 ft above sea level. It is going to help in transportation between Manali and Lahaul valley which was tedious earlier due to the treacherous roads.
Although it took almost a decade to get it completed, one cannot deny the brilliant engineering masterpiece of the tunnel. The Structure that was possible due to the collaboration of Strabag, Afcons engineering company, and BRO ( Border Roads Organization).
The Atal Tunnel – Interiors
Before you enter the tunnel, don't forget to see the story of the Tunnel in form of photos carousel placed outside the tunnel.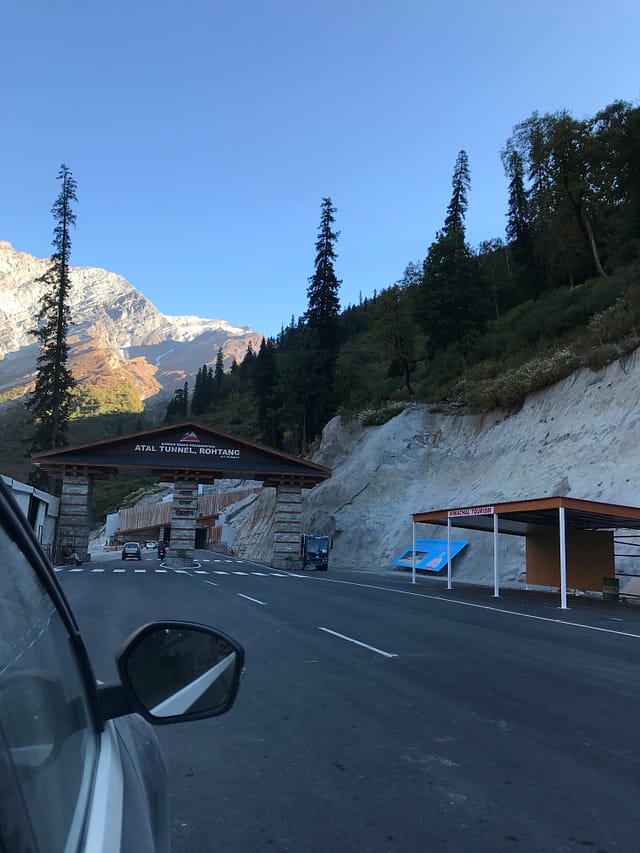 Inside the tunnel, you have to maintain a speed limit of 40 KM/hr. The Tunnel reminded me of a famous chase scene from Fast and furious but you cannot be fast here. There are cameras over there and proper tracking is being done. So it would be better to follow the norms. When you cross the tunnel it looks very vibrant with so many lights and different from the usual old victorian era tunnels which are a little claustrophobic. There is a provision of air-purifying also within the tunnel where the fumes of the vehicles are getting purified from time to time using air purifying machine.
The Other Side
I had butterflies in my stomach when I crossed the tunnel in just 15- 20 min. The other side of the tunnel looks good where Sissu is the first village that comes. The Tunnel reduces travel time from Manali to Keylong which is on the way to Leh.
Also, it will be attracting travelers, bikers more in the future to explore the Lahaul valley, its villages, and then Leh.