The Vintage Era
Sari or Saree evolved from the Sanskrit word Sati which means strip of cloth. First mentions of sari are found in Rig Veda. In the vintage era, women used to wear handloom sarees made of silks, cotton, khadi, etc. The yarns were dyed using natural colors which were mostly extracted from organic stuff like Indigo, turmeric and flowers.
In some parts of the country (like in bengal), not all of the saree draping required women to wear a blouse. It was because many of the drapes were shy enough and covered the wearer.. From here the traditional Bengali style atpoure came into picture.
Also, during the victorian era Saree with blouse was a status symbol.. Due to colonialism some saree rules were also set for women to be presentable in the public eye.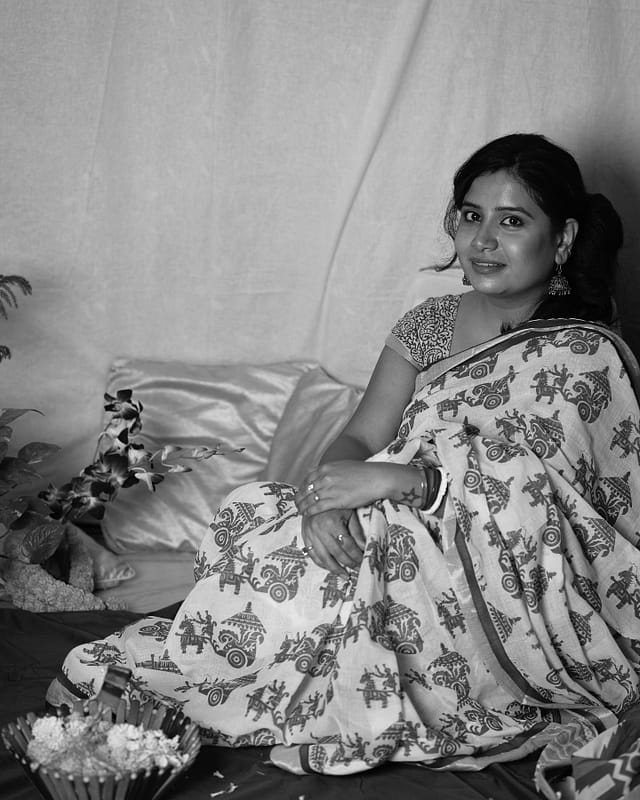 The Royal (Bengal) Look
Era of Stylish Draping and Victorian Blouses
There is a story behind the introduction of blouses for Indian women. Jnanadanandini Debi, sister-in-law of famous Bengali poet Rabindranath Tagore was once denied entry to the clubs under Britishers for wearing a sari over bare breasts. She then started wearing blouses,  shirts much similar to today's boho fashion trends, high neck victorian blouses, and jackets and gave a new manner to saree draping.
The Blouse might be Britain's longest export to our country. It has over the centuries won such wonderful indigenous attraction as a part of our lifestyle itself. It was done to make the sari more presentable resemblance to its Victorian style. With British Raj got here the wave of industrialization. Soon we were introduced to synthetic dyes. Local traders began to know about the export and import of chemical dyes, and this is how we got here to the business of dyeing and printing.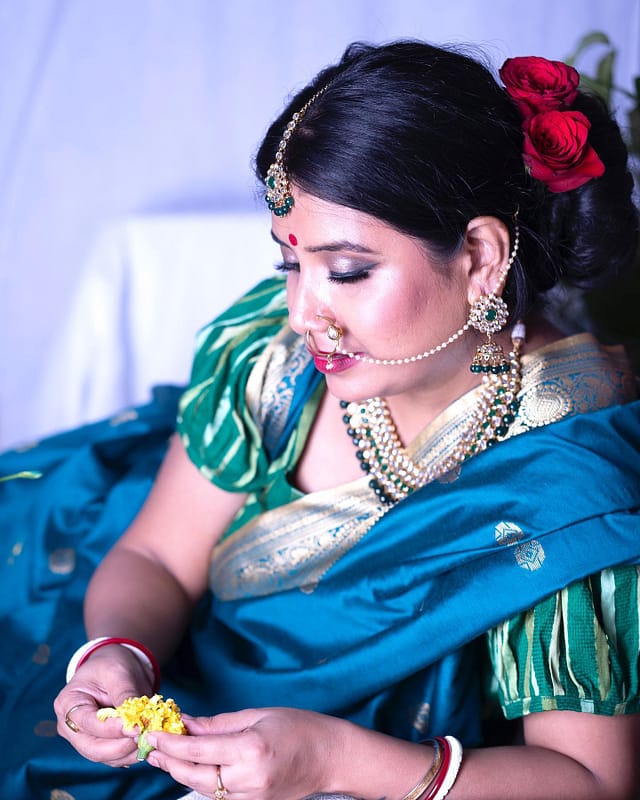 Expensive silk sarees, benarasi saree , rich embroidery, highly designed Kundan and gold ornaments were mostly worn by the women belonging to royal families. Even Women in royal families were considered inferior gender during that time but surely their fashion statement was not.
60s The Era of whimsical drapes and divas
The post colonial era is known for the introduction of puff sleeve blouses , winged eyes , fancy floral saree , sarees with whimsical frills and waves and what not.. Honestly, Fashion was evolving in its best form..
Thanks to Bollywood for bringing this fashion revolution and boosting confidence to carry any new style with ease..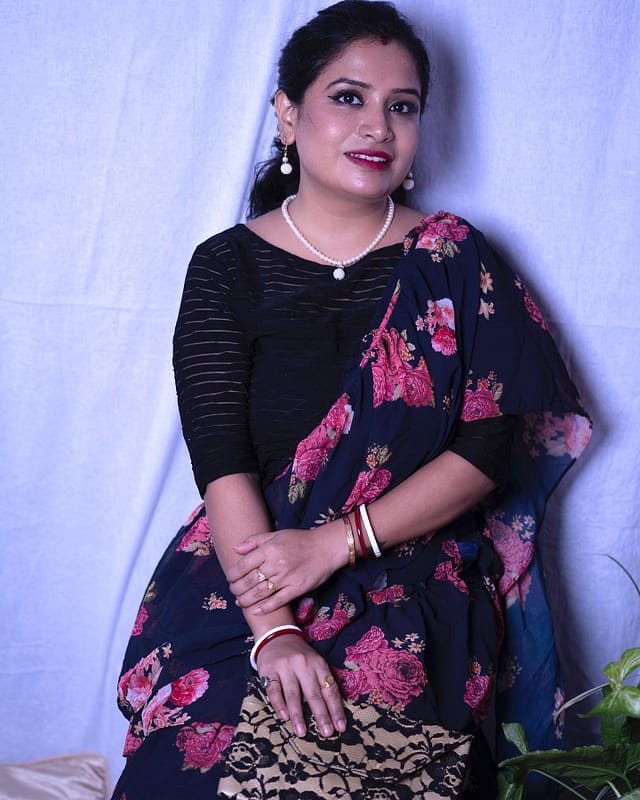 Whether it was Sharmila's puff sleeved blouses , or Mumtaz's Unique saree draping from "aaj kal tere mere pyar ke charche" , Saree looked sassier than any other outfit..
Waheeda Rehman , Meena kumari , Sadhna , Hema Malini , others took in charge of fashion and gave their Signature style and which will remain immortal. Stunning eye makeup , pulse sets , choker all came in fashion and mixed and matched well with saree.
70s and The Minimalist Saree look
"Have you heard your parents or anyone telling you?
Purane zamane ka fashion hi ghum ke aa raha hai." 70s is that zamana.
This was the time when fashion evolved in its best form. Thanks to bollywood and trendsetter divas who brought some immortal fashion trends. While bell bottoms , Flared pants , Polka dots ,Front tying blouses , bell sleeves etc ruled on large scale. Saree took little back seat during this time. But if you see movies by Hrishikesh mukherjee or Basu Chatterjee , ordinary women from middle class families donned the saree look.
For this concept , I took inspiration from yesteryear's actress Vidya sinha.
Styled in handloom and printed saris, bindi, braided or loosely tied hair, slightly winged eyes and minimal ornaments , her look perfectly mirrored the character's style which she used to play. An educated middle class women stepping out for work could resemble more with her comfort style statement which was simple yet impactful.
When I see my family old pictures I find my mom and aunts following style similar to Vidya Sinha. Her fashion was more relatable for the middle class . 70s remind me of Zeenat and Parveen western style. Nevertheless , Vidya Sinha is my fashion icon from that era. A true minimalist..
Monotone sarees in 80s and 90s
Sridevi's yellow saree in Chandni and blue one in Mr India , Bhageshree's yellow saree in Maine pyar kiya , Raveena's yellow saree in tip tip barsa pani, Aishwarya's red saree in Hum dil de chuke sanam and Kajol's KKHH wardrobe in the second half.. The list is endless when 80s and 90s Bollywood films gave us some best and memorable saree looks. Chiffon , silk and georgette sarees always looked chic and sassy and we cant pick only one
favorite
. Monotone sarees paired with embellished blouses continues to enjoy the immense popularity even today.
Millennial Saree Trend
Let me share my story related to saree. I have grown up hearing that you are petite , how will you wear saree? It wont suit
you. But
it did not stop my love for saree and I pursued saree fashion in such a way that people
recognize
 me as saree lover or someone with good saree collection. I clearly remember when I fell in love with saree for the first time..
It was when I saw the song "Tumhi dekho na" from the movie Kabhi Alvida Na kehna. I was awestruck. I might have skipped blinking.
Throughout the song I just counted how many sarees are there(even memorised all the blouse patterns and design). The black saree with little shimmer, pink chiffon, oh so stylish red and green ones. But my personal favourite is the orange one with the minimal sequins. The entire song is a visual treat. Rani Mukherjee brought some real life millennial saree trends.
She looked ravishing and beautiful. She might be petite but I admire her for carrying saree so comfortably and setting saree goals for me.
My love for saree is immortal just like my admiration for her style. Even today when I see her wearing saree , I find her carrying it with utmost grace and poise. This is an ode to saree and all the Saree divas ..
PS:  A day will come when Indian women in coming years will put on sarees, with designs yet undiscovered and styles unborn.